So many traditions go into a Moroccan wedding, but first things first, the marriage contract! After getting the legal and religious aspects clear, the fun begins! PARTY, PARTY, PARTY! In the Moroccan wedding tradition, there is this celebration called, a "Three Day Party" where the bride will have her personal celebration, the groom will have his, and the last day everyone will get together and celebrate the new and in love couple.
Who's ready for a girl's day?! Well for the Moroccan wedding party, the bride has her own day of relaxation called, Hammam Day. The bride will get her female friends and family and together they will go to a "hammam" where the bride will be bathed and pampered before her big day. Who doesn't like a beautiful and meaningful henna design to grace their hands and feet for their big wedding day? The great thing about henna is that it is beautiful and not permanent! The henna design is meaningful towards the bride and groom's future in marriage. It symbolizes hope, fertility, and blessings throughout the marriage.
(https://www.shaadidukaan.com/blog/wedding-bridal-footwear-ideas.html)
In Morocco, as soon as the bride and groom are engaged and officially set a date, they will have to book out the venue a year, sometimes more, in advance. Moroccan wedding meals are usually similar with all sorts of juices and almond milk flavored with orange water. Too bad for the ones who love to have alcohol at a party, it's BANNED! Alcohol is forbidden in the Islam religion. But you don't need alcohol to have the time of your life at the wedding! Morocco weddings usually start at 9pm or later and they party to the band playing "Chaabi" music all night. Literally! Breakfast is usually served at the end of the party which would typically be 6 or 7 in the morning. I'm guessing the party must have a great music all night long to get the party goers dancing all night.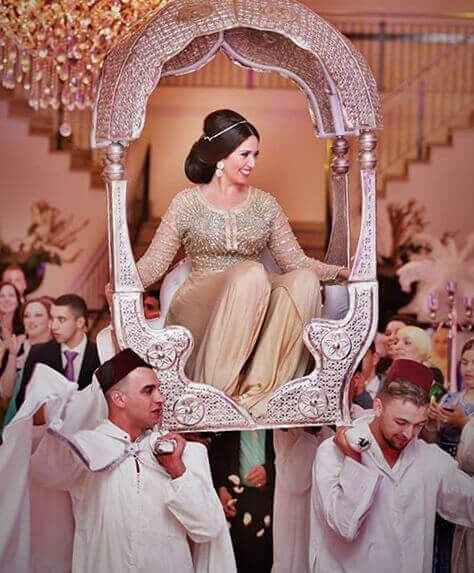 (https://www.morocco-guide.com/culture/)
There is so much that goes into a Moroccan wedding ceremony, but it is all worth it in the end because you get to celebrate the whole thing with your family, friends, and the newest blessing in your life, your bride or groom.
(http://raculture.blogspot.com/2014/10/moroccan-traditional-wedding.html)         (https://www.insideweddings.com/weddings/modern-destination-wedding-with-traditional-elements-in-morocco/921/)